Early years
Cliff began working in the pottery industry at the of 13, later studying art and sculpture at Burslem School of Art, moving to the A. J. Wilkinson factory in 1916.The ambitious Cliff acquired skills in modelling figurines and vases, gilding, outlining, enamelling, she was offered a second apprenticeship at the factory in 1924, aged 25. Within three years, she was given her own studio at the adjoining Newport Pottery, where she experimented with on-glaze enamel colours.
First productions
Cliff's first productions were called 'Bizarre', and were decorated with crude, bright colours and covered imperfections in simple triangles. Earliest examples had just a hand-painted mark usually in a rust coloured paint, 'Bizarre by Clarice Cliff'. Bizarre Ware was an immediate success, as the designs – with their abstract, geometric and figural forms – were in the popular Art Deco style and were inexpensive. A professional 'back stamp' was made: 'Hand painted Bizarre by Clarice Cliff, Newport Pottery England with the early pieces simply known as Original Bizarre.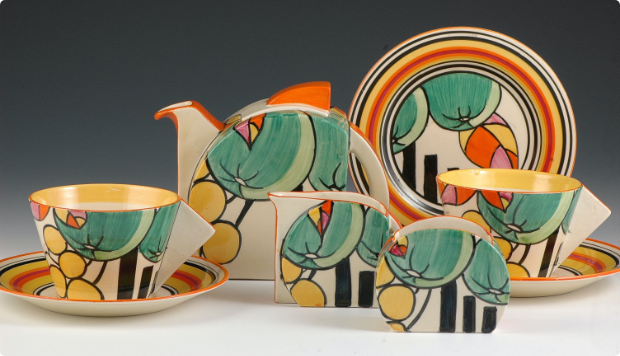 Art Deco influence
In the following years, Cliff added hundreds of patterns to the original range. In 1928 Cliff produced a simple, hand-painted pattern of crocus flowers in orange, blue and purple. Each flower was composed with upward brush strokes, then green leaves added, by holding the piece upside down and painting thin lines among the flowers. The 'Crocus' pattern was clearly completely hand-painted, which instantly attracted large sales. It became Cliff's signature design. Cliff was given a team of painters to work on 'Crocus' in the 'Bizarre' shop where painters were trained how to do the pattern. By the late 1920s, amid economic recession, her career was excelling and by the end of the decade, her team of decorators had grown to 70 young painters, mainly women as the shapes adopted a more modern aesthetic.