Personal life
William Moorcroft marries Florence Lovibond in 1913 and they move to Glendale in Trentham and by July the following year, their daughter Beatrice was born and four years later the couple had a son, Walter. But by 1926, his wife dies of pneumonia. Nine years later, Walter finishes school and works at the Moorcroft pottery. When his father dies in 1945, he takes over the reigns of the business. Before Walter retires in the late 80s, he designs five limited editions: Pineapple Plant, Chestnut, Tulip, Maize and Wild Arum. He was awarded an OBE in 1999.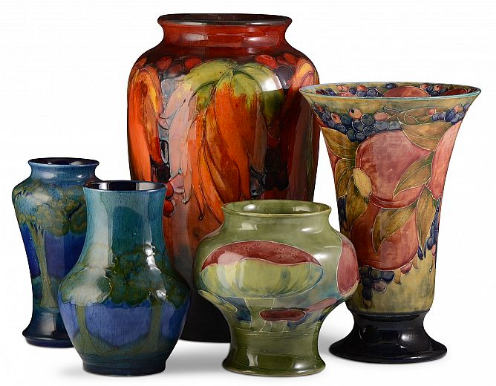 Moorcroft pottery legacy
On Moorcroft's death in 1945, his elder son, Walter, took over management and design. By 1962, the Moorcroft family bought out Liberty, but the business struggled to prosper and in 1984, the family sold the bulk of their shares on the open market. By 1987 the Moorcroft Collectors club launches and since the early 90s, Moorcroft has been controlled by the Edwards family. In 1997 the year of the Moorcroft centenary, the Moorcroft Design Studio was formed with the hugely talented Rachel Bishop, the fourth only designer to join Moorcroft at the helm, leading the innovative team of eight designers. Today, Moorcroft pottery is sought over all over the world, and every year the auctioneers, Christies hold a dedicated Moorcroft sale.